Leading Through Crises: A Conversation with Pete Gaynor
The emergency management sector is undergoing a transformation marked by an increase in crises and an expansion of responsibilities. As the Acting FEMA Administrator and Acting Secretary of Homeland Security, Pete Gaynor was at the forefront of that progression, setting priorities and aligning thousands of emergency managers on a mission. During his time at FEMA, Gaynor led the agency's response to hundreds of declared emergencies and major disasters, and in 2020 oversaw FEMA's response to the COVID-19 pandemic.
Pete Gaynor recently joined McChrystal Group as a Senior Advisor and co-lead a roundtable highlighting the transformation of emergency management. In the following Q&A, Gaynor discusses traits of a good leader, navigating the pandemic, ensuring his teams can mitigate burnout, and what the future holds for the growing sector.
Q: What characteristics and behaviors did you learn from your more than 25 years in the military that you've taken with you and applied in your leadership roles in emergency management?
A: There's a lot, but one that stands out is the mindset that it's always about the mission. No matter if it's a military mission or it's a civilian mission in emergency management, it's about making sure everyone understands what the mission is and what the priorities are.
And then right behind that is making sure you take care of the people that work for you because, without the people, there is no mission. That became very apparent in COVID-19, where in order to carry out all the actions that the nation had to do under COVID-19, you still had to preserve your employees because you needed them to carry out the mission.
Q: How did you keep that mindset as you moved from leading at the local and state level to leading federal agencies during unprecedented emergencies?
A: Staying true to yourself is key as a leader. It's especially true in D.C., but really in all levels of government, you can get a very overinflated view of yourself very quickly. One of the things I did when I arrived in D.C. was I hand-selected the people that I wanted around me and those people stayed with me up until the very end and they were my guiding light.
I knew what I wanted, and I made sure my team clearly understood that. Sometimes if I were moving off-track or away from my priorities or intent, they would bring me back to reality. A crucial element of leadership is having good, dependable, loyal people around you. Not yes people, but people that understand the mission, understand you, have the moral courage to tell you the truth and want to be part of it.
Q: You mentioned it's a fairly young sector compared to things like police or fire, and yet the responsibilities that fall in the sector's portfolio continues to expand. How much has it changed, and what does it now entail?
A: There were always hurricanes and natural disasters, but now the weather events are more intense, happen more often, and are more costly. After 9/11, the emergency management enterprise became responsible for preparedness, prevention, and mitigation against acts of terrorism and nation-state threats such as cyberattacks.
The next phase of maturing emergency management is happening now with COVID-19. The professional has really grown up in the past 2 and a half years, along with the tasks all levels of government now expect us to act on; things like the supporting actions at the southern border to managing Monkey Pox.
Now we realize we have to invest money into our resilience and pre-disaster mitigation efforts and to things like fighting and mitigating climate change. The growing cost of disasters is unsustainable. It's all about balancing priorities against the funding you have available, whether it's the need for additional manpower or funding operations for new missions. What do you put your efforts into to make the most of those limited resources.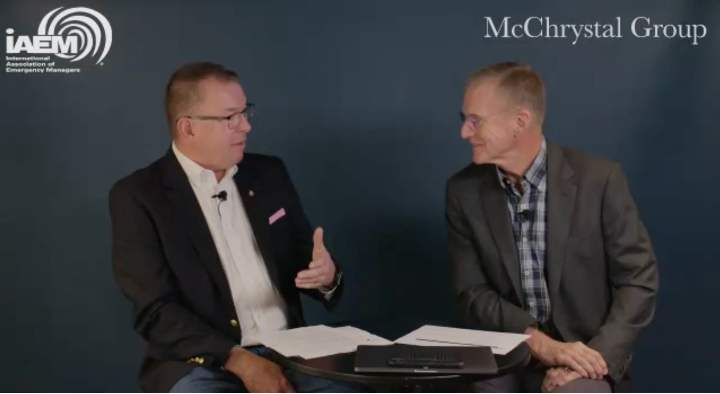 Our role as emergency managers has changed; the response to COVID-19 has highlighted that change and the importance of emergency managers at every level of government. In recent years, the sector has been transitioning away from what I call routine disasters — the flooding, hurricanes, and the things emergency managers have always been doing. We're good at emergencies. Generally, people are good at emergencies because we do emergencies every day across the country. Today, we are not only managing emergencies but also threats that endanger the security of the nation. We have begun our transition from emergency managers to crisis managers.
As emergency managers, we need to be more deliberate about how we manage crises that may impact the nation. What we need to do is have FEMA take a more prominent role in managing crises in a more deliberate way.  That change and approach is critical in order to improve our national crisis response system and infrastructure for future crises that will occur.
Q: With so much that falls under the emergency management portfolio, how do you balance short-term and long-term priorities and keep people engaged?
A: There are always competing priorities, so I try to keep the mission in mind. It's as much about what you do as it is what you don't do and spend time and resources on. In my role, I try to manage all these kinds of competing priorities. 'Hey, we have to get ready for hurricane season. We have to respond to the pandemic. And by the way, California's on fire.' We have to manage that. How do you spread resources to do it? In some cases, it's not about managing resources but actually managing the lack of resources. The number one resource is our people, the people that make the "magic" happen. Ultimately, the high tempo and the relentless pace of disasters results in people burning themselves out. You have to have a deliberate plan to manage and preserve the workforce for the threat today and the threats that will come tomorrow.

What makes our ability to "help people before, during, and after disaster" is that this profession attracts people that are attracted to our life-saving mission. It attracts people that are committed to the mission and will go to all lengths to meet that mission. Something I found myself having to do was send people home to protect the mission, their well-being and that of their families. It's all about keeping the balance.  Done deliberately, it allows them to keep doing the work and to know that in their absence the collective team will be able to respond and carry the load.
Q: What do you identify as the biggest challenge facing the sector today?
A: The biggest challenge is if we learn none of the hard-learned lessons from COVID-19 and we go back to the status quo, we go back to the way we operated and the way we saw the world before the pandemic.
If we don't embrace any of the things that we learned or observed, and we fail to update our strategy, operations, plans, processes, and procedures, then I think we have wasted a tremendous opportunity. What a tribute those changes could be to the more than one million Americans that died as a result of the COVID-19 pandemic.